L'Institut Jeanne Toussaint – Arts & Métiers participe et soutient la Brussels Jewellery Week (29/04 – 08/05) organisée par l'asbl Les Brucelles
https://www.brusselsjewelleryweek.com/
en vous proposant un workshop "performatif et créatif" animé par Daniella Saraya & Deganit Stern Schocken
WORKSHOP "Fire and Flood" / The performative side of materials 
03/05 > 06/05
By Daniella Saraya and Deganit Stern Schocken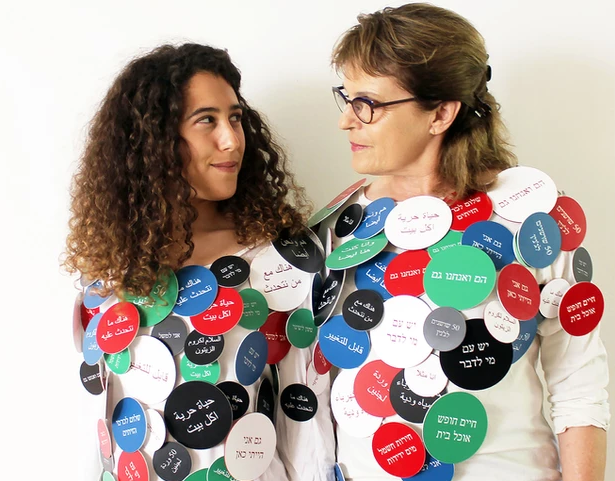 Fire and Flood are uncontrollable phenomena, manifesting a connection between material and movement, a connection that creates great power. These kinds of extreme movements, taking place around the world, are always followed by responding movements such as flight, fear, protest, etc. Movements with social and political value necessarily activate the intimate body as well. In their connection with our body and language, fire and flood can also become metaphors, describing an emotional experience, showing the expressive and performative possibilities of working with different materials.
How do we choose materials for our work?
To what extent do our thoughts, movements and emotions become part of the material we use?
Can the definition of "precious" be stretched to include different materials?
What gives a certain material its value?
Is there value to ephemeral materials?
How do we turn material into an interment object, a jewellery piece?
In this workshop, we will deal with the creation of jewellery taking matter as the starting point. The choice of materials gives the possibility to redefine their value. The creation, the production, the material, the body, and the movement, allow the existence of jewels and their meaning. All these elements bring jewellery to life.
03/05 > 06/05  from 9h30 to 17h00 
Institut Jeanne Toussaint / Campus Arts et métiers  
Bld de l'Abattoir 50 – 1000 BXL
Fee : 300€ for 4 days – all inclusive :
workshop / material / equipement / lunch
Upon selection. 
Application deadline: 19 April
Announcement of selections: 22 April
To participate: send a CV and a letter of motivation to info@jeannetoussaint.be
Bios 
Daniella Saraya is an artist and a curator, completed her bachelor's degree in jewelry design (2013) and her master's degree in multidisciplinary design (2017) from Shenkar College (Israel). In 2019 she started studying in the class of prof. Karen Pontoppidan at the Munich Academy of Fine Arts. Over the past decade she creates jewelry and jewelry-related projects, participating in exhibitions both in Israel and around the world. Her works question the Boundaries of the jewelry, focusing on its performative side and its connection to the body.
Deganit Stern Schocken is a jeweler, designer, artist, teacher, and curator. Founder and head of the Jewelry Design Department in Shenkar College of Engineering, Design and Art (1998 – 2007). She was the Chair of the Master in Design (M.Des) program in Shenkar (2012 –2016). Today she is a senior lecturer at the M.Des program and at the Jewelry Design Department.
Deganit Stern Schocken graduated from the Department of Industrial Design and Environmental Design in Bezalel Academy of Art (Jerusalem, IL) and has an MA in Arts from Middlesex University (London, UK). She has extensive experience in short and long term workshops at schools and conferences in Israel, Europe and elsewhere. 
Stern Schocken's solo exhibition "How Many Is One" opened at the Tel Aviv Museum of Art in 2003 and she has participated in many other solo and group exhibitions in Israel and abroad. In 2005, she curated the Israeli Jewelry Biennial 'Beaten Gold' at the Eretz Israel Museum (Tel Aviv, IL) and is currently involved in curating more group exhibitions. Her works are included in museum collections and private collections worldwide.
 In 2009, Stern Schocken founded "Inyanim", a group of ten Israeli jewelers whose debut exhibition "No Problem (?)" opened in 2010 at Gallery Loupe in New Jersey, USA. Since then the group showed in many other venues